VALET VAULT™ is dedicated to improving security in the valet industry by providing the safest, smartest, and strongest key storage and security solutions in the parking industry. It is our mission to defend parking companies and their customers from auto theft as a result of stolen keys caused by inferior key storage equipment or employee error. 
Our best-in-class Valet Vault products have been developed with the knowledge gained from decades of experience in the valet parking and fabrication industries. They are made with quality materials, innovative technologies, and American craftsmanship.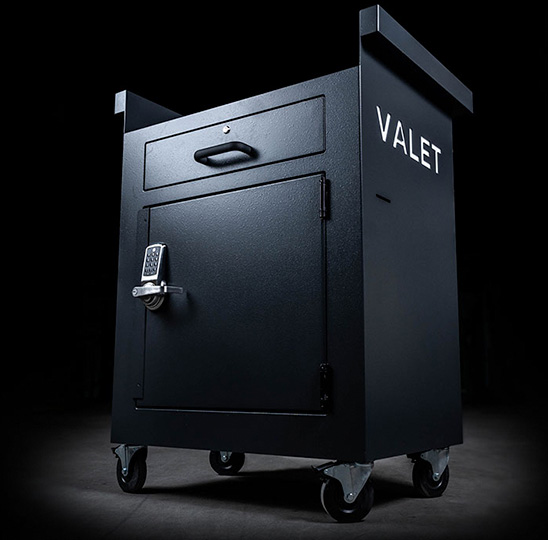 Years of
VALET PARKING
Experience
Years of
PHYSICAL SECURITY
Experience
Years of
METAL FABRICATION
Experience
Created by valets, for valets.
Zach Wojohn, CEO of Valet Vault, started Executive Parking Systems (EPS) — a full service valet parking and parking management company — in 1997 at the age of 21. Over the years, Zach saw his industry get plagued by car thefts and robberies often due to the inadequate key podiums that were, and still are, standard equipment at most valet parking lots. In 2019, the company had two Porsches and a BMW with a total value of almost $400,000 stolen from their lots within one week of each other. All of the cars were stolen out of locked valet key podiums that were easily broken into with a simple screw driver and a few seconds of time. It was these incidents and the frustration that came with the ineffectiveness of the available podiums that sparked Zach to take action into his own hands and create a key podium that would provide a better and more secure solution for the industry.
Zach had a clear vision of the type of key podium he wanted to develop, but he needed to find a skilled fabricator to take his vision from a concept to an actual product. Through a friend at Zach's church, he met Grant Henry of Henry Incorporated, the largest metal fabrication company in the Southeast region. They became good friends and Zach showed him the sketch of his dream valet key storage podium. Grant's response? "Yeah. We can build that." From there, Valet Vault was born.
Using a pull resistance test, Zach and Grant discovered that the popular key podiums used throughout the parking industry took less than 100 lbs of pressure to not only open the door but to pull it off. In contrast, the door on the Valet Vault, using the same scientific weight test, handled a pull test of 1000 lbs before the slightest opening at the top of the door was made, and the patented reinforcements made the door snap back when the weight was removed. This makes the Valet Vault almost impossible for a person to pry open the door. After seeing the impressive results of the pull resistance test, Zach and Grant knew that they had created a product far superior than any product available on the market. 
After building and testing several versions of the Valet Vault, Four final versions were developed; the flagship models, the Defender 50 and Defender 40; the more basic model, the Sentinel 40; and the wall-mounted model, the Guardian. All of the Valet Vault series have innovative, patented technologies, and we are continually looking for ways to improve our Valet Vaults. In addition to our core Valet Vault product line, we also developed Alumisign, an LED-lit, portable wayfinding sign with its own power source, and we are continuing to look for ways to make valet parking a safer and more secure industry.
Valet Vaults can be used to improve key security at a variety of locations.